Hello
In another post, the ability to register a template into eclipse plugins was mentioned, I prefered to make a separate post for it.
The instruction are described here: Reference Documentation - M2Doc
Sorry if this looks like a very noob'ish question for the eclipse dev enthousiasts, I just did not find the time to dwell into eclipse dev compared to Python or Capella Studio Specifier which don't need much plugin or manifest file configurations, so first question is about the plugin.xmli.
First step was indeed to write something in the plugin.xml file:
First step is to add an extension
I am not sure if a "path" value need to be added inside the xml tag <template…> or if the uri name is important.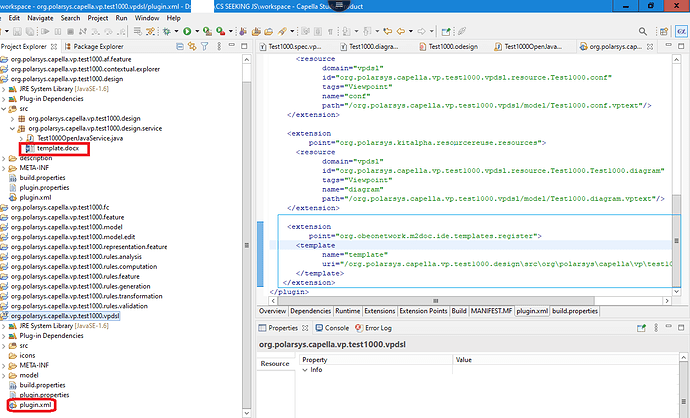 So what I did here was to keep the content of "point" just copy pasted it, and change uri into the path of the place where I added my template (red square in the top)
I am probably making some major mistake here.
Second step was to import the registered template, using Right click > import > M2DOC > import template > select the registered template
Except I can't find that template, so I am probably making a mistake somewhere, if you see it anywhere please inform me. Thanks