Hello,
I am facing an issue with unwanted text spaces/lines.
For this Model:


I put a description inside LC1, LC3, and LC5.
LC2 and LC4 have no "description".
The M2DOC queries are:
m:for comp|self.eAllContents(la::LogicalComponent)
m:if comp.description.trim().size() <> 0
m: comp.description.trim().fromHTMLBodyString().replaceLink(comp)
m:endif
m:endfor
The result would contain UNDESIRABLE spaces: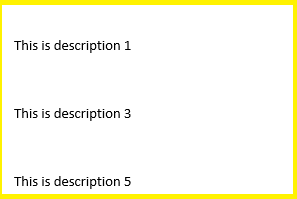 Eventhough, there is a condition "if", it should not allow the template to generate a new line for LC2 and LC4.
This problem is even more exasperated when using the black dots, as illustrated here:


The Generated document:


This is quite inconvenient.
How to get rid of this problem?
---
I added a new experiment (adding a green text area that shall not appear for LC2 and LC4 lines), to be sure that the test "IF" is working correctly: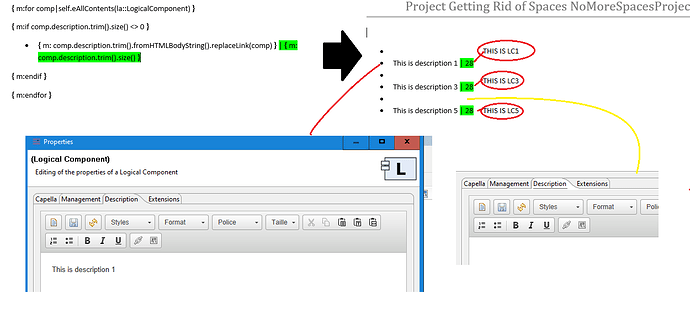 As you can see LC2 and CL4, do not possess any green text area, if the "IF" condition was not respected then we would have gotten a green area containing the number 0. The problem is that EVENTHOUGH "IF" is repected, hence the M2DOC querry not being called for LC2/LC4, the (word space/Black Dot) IS GENERATED nonetheless, which generate unwanted spaces and unwanted black dots lines. Is there a way to bypass this problem?