Hello,
Do you know how, why/when does something like this happen?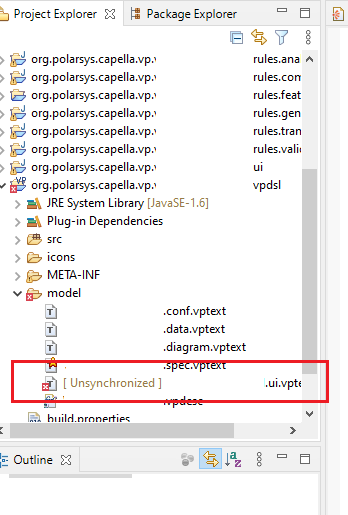 My vptext SPEC has an "unsynchronized" next to its name.
Is it by any chance, because I am referring in my odesign file to classes that are not declared in the ecore? Or is it something else?
---
Second problem:
I am writing some classes in the vptext, yet the newly added classes would not be updated in ecore after doing a "generate viewpoint" (yet the config file contains this mention set to True => OverwriteEcore: true)
Strangely enough, the ODESIGN file (already existing and not overwritten => overwrite set to False) would NOT reconize the new classes… (CTRL+Space would not show the new classes only the one I had before).
If you have any feedback, thanks.
Edit: I think i launched a runtime too fast, it hadnt the time to synchronize or something. I tried to restart few times, and the problem went away. Even Ecore is beign updated. However the Odesign ctrl+space feature would not work for the new new classes UNLESS you restart Capella Studio.
---
Edit: I got another error message, any idea what it could be? (In ANOTHER different capella studio instance)