Hello everyone,
I begin to say that I am not an expert in programming and I am using python4capella at the moment simply to export components and requirements. With that being said, I try to explain my problem. If I follow your tutorial and install directly python3.7 on my Capella directory (I am using Capella 6.0.0), everything works fine, but I am not able to install packages. Indeed, if I try in the preferences menu it does give me 'FINISHED' without installing any package. Of course, openpyxl does work as it is yet installed inside the zip folder.
Hence, I put as predefined python engine the one I have yet installed separately for my own other purposes (python 3.11.1). The strange thing is that I am able to import packages. Nevertheless, once I run a code, this happens and everything stops working (see down below the error).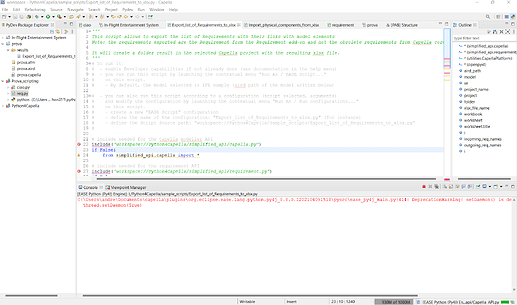 I also tried to install pakages inside the folder of python3.7 (the one in the capella folder) from the 'external' python 3.11.1 but once I run the code it returns me error.
In a nusthell, the two approached are complementary in the errors they are producing. This is not a big issue for the things I am doing, as I am using two python in parallel let's say. Nevertheless, it would be nice if I would be able to import packages and extend the work I am doing (at the moment modify and exporting requirements).
I hope I was clear and apologize since the beginning as maybe I am doing a stupid error. Again, those are my first steps in programming.
Thank you in advance.