Hello,
My name is David and i'm a new comer in the MBSE / Capella community. I'm a software architecte / developer and have a professional opportunity to evolve to system architecture. I have a 5 days formation planned in septembre but during this time and in order to understand this thing by myself (summer challenge…)… first mission… (achieve today
) : installation of the tool and the differents plugin that I want to use. Without training it is already a challenge in itself…

Basically I got the logic. There is just one (just one?) thing who annoys me; in the Mass & Price plugin the "doted line" isn't showing on the diagram (whereas "time" (Basic Performance plugin)) it's working).
Screenshot in attachement :
=> PhysicalFunction2 => (Time) 30 ===> Show the dot line
=> PC1 => (Mass)10 - Max: 50 ===> Doesn't show the dot line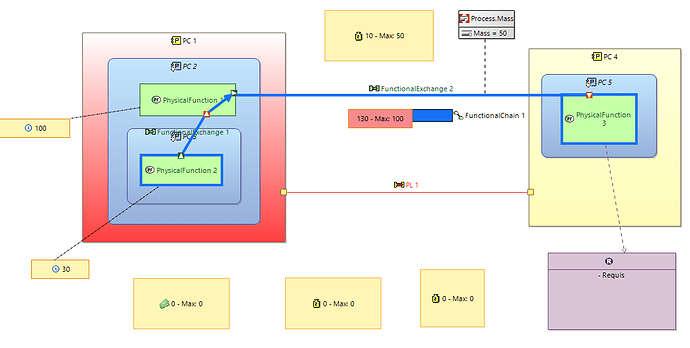 I may have missed the information on the internet, on the forum, in the documentation or elsewhere, but I still have the impression that it is not possible. I am right?
Thanks you in advance
Technical details :
Capella Version: 5.2.0 Build id: 202111301257 on Windows 10 x64
Plugin: Basic Mass 5.0.0 & Basic Price 5.0.0 (dropin installation)