Hello everyone! I've been using Capella for about half a year, and this is my first post here - hurray!
I'm running into this odd issue. I'm running Capella 5.1.0 I'm creating a series of PABs, and I'm noticing that sometimes Capella doesn't pull in all the ports on an object when added to a new diagram. I've see this with Physical Ports on Node PCs, Component Ports on Behavioral PCs, and Function Ports on Physical Functions. The associated exchange/link will also be missing.
Here's an example below where one component port is missing and one physical port is missing, along with their associated exchange/link. (My apologies - I know the covered up names makes the example more questionable.)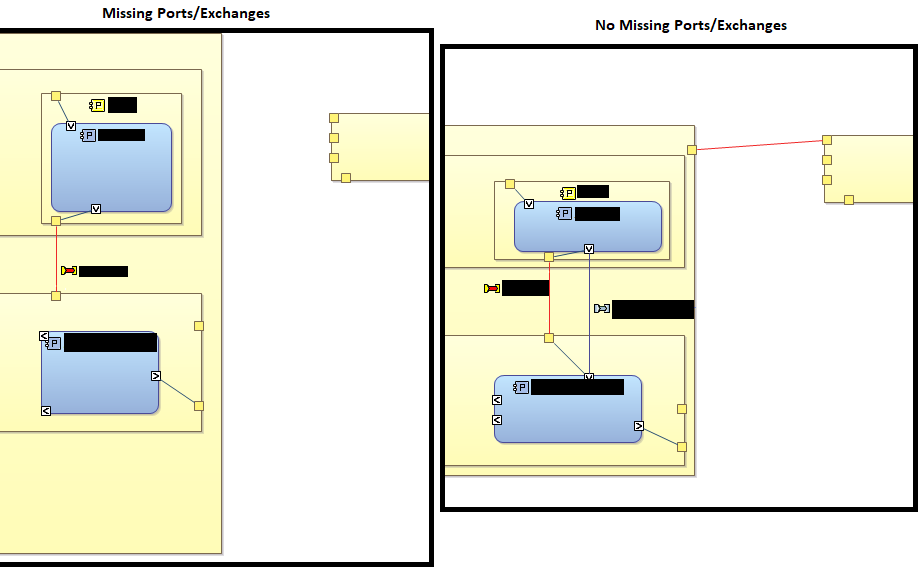 Any idea why one of my PABs seem to be missing some ports? I've tried refreshing the diagram, hiding/unhiding (the missing ports show up as not hidden), closing/reopening the project, and closing/reopening Capella. The one thing that seems to work is to edit the model itself. If (in a diagram where they are displayed) I move the ports to another object and move them back, they suddenly show up on the diagram with the problem. This is not a good workaround in my mind, as I don't want to inadvertently change the model by accident or mess up port allocations as I'm doing this.
Thank you!