Hi,
I have a diagram in which I show Behaviour Physical Components deployed in Node Physical Components: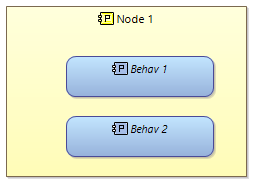 I would like to have the same diagram but showing only the Behaviour Physical Components, i.e. basically the same without the yellow component …
I thought it would be possible by cloning and then applying a filter on the new diagram.
Unfortunately when I use "Hide Node PC", the deployed Behaviour Components are also hidden and I get an empty page, which is rather frustrating
Any idea ? How can I get such a diagram without having to create it from scratch ?
Many thanks …