Hello everyone,
I'm trying to implement an already exiting template into Capella to modify it with M2Doc.
I've successfully imported the template, but I'm facing an issue with setting the initial variable, known as 'self' in the documentation.
When clicking on the implemented template and initializing the documentation configurations, I can create a genconf file, but I can't select a variable.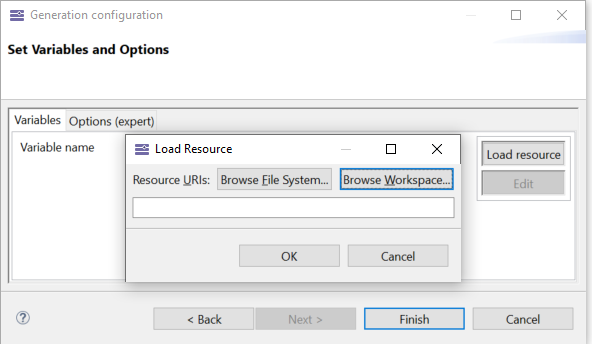 As shown in the window above, I've tried loading a resource to set the variable. Therefore, I clicked on Browse Workspace, selected the file 'my_project_name.capella', but after clicking on 'OK', nothing happens and the Variables tabel remains empty (selecting 'my_project_name.aird' crashes capella).
To register the tempalte, I've created a plug-in project and added the necessary extension at the end of the plugin.xml file as in this example: plugin.xml. After installing the plug-in, the import process (Import → M2Doc → Import Template) works.
Did I miss something while creating the plug-in or is there another reason why I cannot select a variable?
Thank you for your help!
Falk