Hello everyone,
I'm looking for a way to create a model element using groovy scripts (with FDorner capella-groovy addon).
If I take the following screenshot as example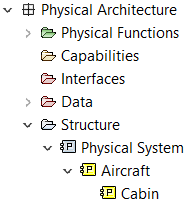 I want to create a physical node called "Cabin screen" that will be a descendant of the physical element "Cabin". Is there a way to do it ?
Thanks a lot,
Christian KOUMLAH MBEY