Good morning,
I am having a problem with my capella model. I am not able to modify it anymore. I am not able to add or modify anything, neither create new diagrams. It seems like it is in a read mode, I can only for instance put already existing requirements in different diagrams, but not able to modify them. Looking at the Project Explorer it seems missing a part. I attach here below the thing I am talking about. The model with which I have problems is called 'GIT', whereas 'HET' is a new and empty model made for comparison.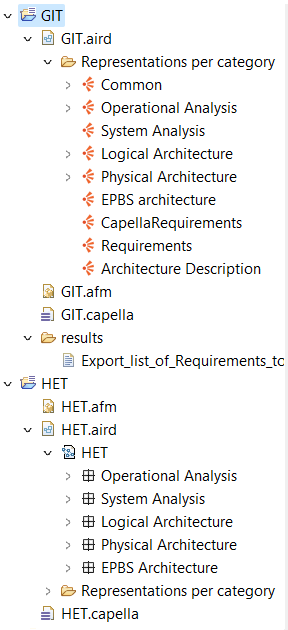 I underline the fact that I had this problem after running pydev modules, I was able to modify everything before starting scripting. I try to run the model with a different pc but I am not able to load it as the pc does not find the model. I really do not know where is the issue.
I am using Capella 5.2 with the python 3.7 provided by the guide.
Thank you in advance.